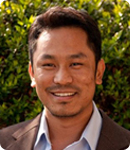 Dr (Vaidya) Ram Tamang is an Ayurvedic Physician, trained as a doctor at an esteemed school in Southern India. Dr Ram grew up learning about herbs and medicines from his grandmother, in the foothills of the Himalayas in Kathmandu, Nepal.
After graduating as a Doctor of Ayurvedic Medicine (BAMS) he was appointed as Master Physician at The Ayurvedic Retreat Center in Kunoor, India. Over the next few years, he was invited to teach and tour many schools and organizations in Europe, Nepal and India.
In 2006, along with his business partner, he started his practice in Orange County, South California and has been practicing full time for the last 14 years at the Healing Gardens of Ayurveda, a full-service Ayurvedic clinic.
He is also a faculty with several Ayurvedic schools in the US such as Kerala Ayurveda Academy and the Dancing Shiva Yoga & Ayurveda School.
Over the last 20 years of his practice, he has served thousands of his clients to make changes in their lives and empower themselves with self-healing. He truly believes that "health is in your hands" and that each of us has a responsibility and desire to be healthy for ourselves, our families, our higher purpose and contribution to our world.