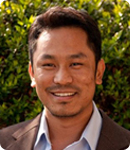 Dr. Ram is a licensed Ayurvedic Doctor (BAMS)  in India and Nepal  from a prestigious  MGR Medical University at Coimbatore, India.  Dr. Ram also holds a Certificate as a  Master Herbalist  from GCNM, USA.  In addition, Dr. Ram teaches Yoga for your body type as well as  for specific mind/body imbalances.
Dr. Ram headed a Panchakarma (traditional Ayurvedic cleansing programs) Center at Ayurveda Retreat in India and worked side by side with Allopathic Doctors, before coming to the United States.
As a Partner with the Healing Gardens of Ayurveda, Dr. Ram has helped build and sustain a growing community of people passionate about the value of Ayurvedic Medicine.  Dr. Ram is a charismatic speaker and educator and offers  numerous workshops and seminars for various organizations including:  Yoga and wellness studios, a Parkinson's association, spiritual communities, hospitals,  universities as well as many Ayurvedic schools and associations.   He has written numerous Q & A columns for LA Yoga Magazine and is an ongoing lecturer for international and national colleges of Ayurveda.
Dr. Ram, along with his team, performed a six month double blind study to investigate the potential of herbs and amino acids in mitigating sleeplessness.  The result of this study was a formulation for an insomnia disorder.  He is currently developing several other herbal formulations.
In addition to his full time clinical practice, Dr. Ram is in executive board member of the Council of Ayurvedic Research in USA.  He is also a registered Ayurvedic Specialist with AAPNA.
Dr. Ram is fluent in English, Hindi, Nepalese, Tamil and Dutch. He is very interested in Yoga and has studied extensively with Yoga masters in India.   He is involved with http://microprojectnepal.org/and loves the difference that this organization is making on the lives of the people of Nepal. He is deeply influenced by the teachings and thoughts of the seer and philosopher, J. Krishnamurti.  Dr. Ram is grateful that he can pursue a way of living that involves practicing Ayurvedic Medicine and devotes his time to the health education and awareness of his clients.