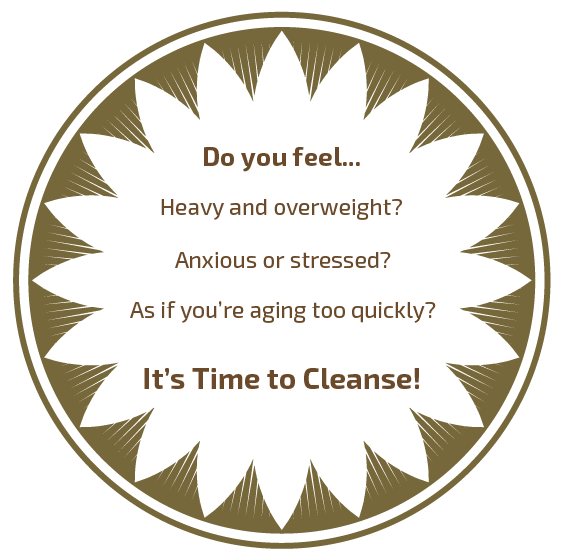 Restore Mind/Body Balance
Anti-Aging & Rejuvenation
Stress & Anxiety Reduction
Seasonal cleansing helps to release toxins and restore your body's natural ability to heal. The Healing Gardens Cleanse & Detox Wellness Systems will:
ELIMINATE toxins and toxic conditions from your body and mind
RESTORE your constitutional balance improving health and wellness
STRENGTHEN your immune system
REVERSE the negative effects of stress on your body and mind
PROMOTE longevity, self-reliance, strength, energy, vitality, mental clarity
PREVENT reoccurrence of mind / body imbalances
INDUCE deep relaxation and sense of well-being
According to Ayurveda, our bodies are generally naturally healthy. However, we ingest toxins on a regular basis whether it's our food, air, water. and our day to day activities (both mental and emotional). The toxicity in our bodies is further exacerbated by negative relationships, stressful jobs, unhealthy lifestyle, and lack of spiritual orientation. All of these factors increase the formation of "ama." Ama is classified as toxins, blemishes, by-products of undigested matter in our bodies that lodges in our tissues that eventually become the cause and the breeding ground for many diseases.
Based on our combined 30 years of experience and knowledge at The Healing Gardens of Ayurveda, our full-time Wellness Practice and Center has enabled us to develop a unique 15 day program that is a natural, holistic, health-giving series of therapeutic bodyworks treatments, signature Herbal supplements, teas, tinctures, herbal capsules and nutritious and balanced meals, lifestyle recommendations and much more.
Our Wellness Systems are based on Ayurveda and Panchakarma, cleanses the toxins from the body's deep tissues, open the subtle channels, brings life-enhancing energy, and thereby increases vitality, inner peace, confidence and overall well-being. The Wellness Programs are 15 days or more and designed according to an individual's imbalanced state of mind, body and emotions.

How does it work?
The Healing Gardens Wellness Systems Cleanse & Detox Process: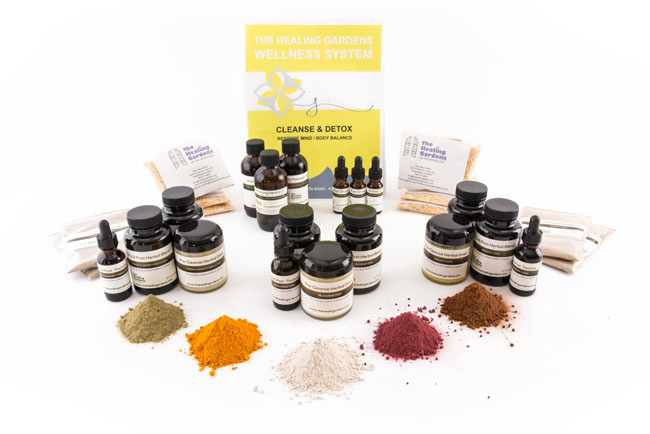 5-Day Pre-Clease:
Preparing yourself for the treatments & therapies. This process helps to loosen toxins so they can be expelled. The 5-day pre-cleanse includes ingestion of herbal medicated ghee, self massage, a light vegetarian diet, optional herbal enemas, and pre-cleanse herbs & supplements.
5-Day In-House Therapies & Treatments:
Three healing, cleansing, and detoxifying treatments & therapies per day including; warm herbal oil massages to deeply penetrate the skin and cells, poultice and lymphatic massages, herbal scrubs and steams, total body reflexology, art of the soul and third eye treatment, nasal oil therapy, eye therapy, facial & marma therapy, one-on-one yoga, breath work and meditation, reiki energy healing, emotional counseling. We also provide freshly prepared organic vegetarian lunches, herbal teas, and herbal oil supplements.
5-Day Post-Cleanse:
Restoration and rejuvenation for nourishment and building strength. The 5-day post-cleanse includes self massage, a light vegetarian diet, post-cleanse herbs & supplements, lifestyle and nutritional guidance & tips, and a five-senses cleansing kit.
During the entire 15-day Healing Gardens Cleanse we suggest that you drink plenty of room temperature water and herbal (caffeine-free) teas, enjoy rest & relaxation, and regularly meditate and practice breathing exercises.
Get Started Now
or Call us with any questions at (714) 730-7919
What our customers are saying
I owe you my life for I wouldn't have lived long or well without your healing and guidance
DR.RAM AND SUJATA TRANSLATE AND MAKE POSSIBLE PRACTICING AYURVEDA FOR EVERYONE! THEY HAVE CHANGED MY LIFE INFINITELY FOR THE BETTER AND I CANNOT REPAY THEM ENOUGH! IT IS FOR EVERYONE AND EVERYONE CAN BENEFIT GREATLY FROM IT! I CANNOT RECOMMEND THEM HIGHLY ENOUGH!! THANK YOU SO MUCH FOR ALL OF YOUR HELP!!! , NAMASTE, KRISTY.
It was life changing experience to have gone through Panchakarma at the Healing Gardens
For Panchakarma to make a difference in my broken bone, that I had spent hundreds of thousands of dollars on, to feel no pain for the first time in 6 years and weeks later, NO PAIN is Amazing! Words could never describe my experience, nor my ways of life and I feel today, weeks later. Even though, I am still moving in my new body and acknowledging my reactions to be different, the way I walk and feel like I am walking on soft clouds, the calmness in my head – JUST UNBELIEVABLE
I've had ECZEMA and used steroids and other medications my entire life until my eczema got out of control from head to toes and the meds weren't working anymore.
I had not choice but to look for alternative measures when doctors and dermatologists could only prescribe more detrimental drugs to suppress my immune system. They gave me a life sentence in prison indicating that I "can't go here, wear this, do that, etc." and I'd be on drugs the rest of my life. I essentially had to live in a bubble. No thank you! There's gotta be a better way to manage my eczema.
I quit my job and searched full-time for a natural solution. I found certain organic foods, exercises, meditations, and other holistic approaches help heal eczema. Those things helped but The Healing Gardens truly pulled it all together for me and helped me heal and manage my eczema holistically.
Dr. Ram and Sujata are not only holistic healers using the mind, body, and consciousness but they are inspiring healing coaches. You need a great healing team to support and guide you through this process of detoxing your body of the drugs and toxins. Their staff is just as phenomenal as them.
I enjoyed their treatments during Panchakarma detox, which included warm oil massages, yoga sessions, delicious healing meals prepared by Sujata, and many other activities that involved healing the mind and body. These treatments may seem obscure but Ayurveda has been practiced for 5000 years and continues its lineage with Deepak Chopra, M.D. and Dr. Oz endorsing this practice today.
Dr. Ram and Sujata always make themselves available by telephone, e-mail, and in person. I'm always greeted with a compassionate hug when I see them.
If you have eczema, it is POSSIBLE to heal from it. Dr. Ram specializes in skin and joint issues, among many other conditions. They can help you live a more joyful life doing the things you love to do.
I'm grateful I made life long "friends" with healers who authentically care about my well-being and longevity.
THANK YOU THE HEALING GARDENS for freeing me and giving me my life back.
Several weeks after my cleanse, I'm still amazed with the qualitative differences I'm experiencing inside and outside my body. My mind is clearer and more alert, my circulation and energy levels have improved significantly, and I feel more positive and generally more optimistic than I have in a long time. I'am very pleased with the care I've received from the wonderful people at The Healing Gardens.
The Greatest component this week has been your genuine caring about your clients – everything you have done has been excellent. I will be sharing this wisdom and compassion with few others. I know this is the beginning of a journey for the rest of this life
Sujata and Dr. Ram are dedicated and passionate about what they do and it is so healing and comforting to be around them. They have full faith in Ayurveda and it is so reassuring. The Center is set up well and very comfortable
I am now a big fan of Ayurveda Medicine and a believer in Panchakarma.  I assure anyone reading this review that the Healing Gardens is exceptional.  I was there for a 8 day Panchakarma – I needed to detoxify my body due to severe asthma, allergies and some eczema and skin issues.
Sujata is a very warm and caring person – she will guide you thru your Ayurveda treatment in a kind and professional way that will itself reduce your stress.  Her meals were tasty and delectable and served with compassion and hope – I became more health-conscious with each meal because my body could really feel the difference.  She taught me how easy is is to make healthy meals.   I learned the how and why's of wanting to and needing take responsibility for my own health.
Dr.Ram is a phenomenal ayurvedic practitioner – he is very experienced and can help put people on a path to healing.  He not only has vast amount of knowledge and schooling but has real world experience.   I found his ayurvedic  practice to be very authentic. – Henry Valdez
words cannot describe as to how wonderful I feel to have found Dr. Ram and Sujata and the Healing Gardens Team! The are the best! the panchakarma Detoxification they put together was very concise, feel good feeling! Even though they fed me most delicious and natural foods, I still lost 7 IBS during my detoxification 7 day program! I feel energized, rejuvenated and relaxed and my body's natural healing system facilitated my body to eliminate toxins without any difficulty! I feel fantastic – contact them if you want a natural healing for any ailment.
After taking the Stress & Anxiety tincture for a couple of months now I have to say it changed my life. I feel calm and I no longer "freak-out" over situations that cause me to stress over them. I can handle them now. I am more focused and less anxious for sure. Thank you for this, and everything else you have helped me with.
Address many other mind/body ailments:
Pain management




Rehabilitation




Therapeutic cancer management




Acne, eczema and psoriasis
Digestive issues




Allergies & sinus issues




Sleep disorders




Chronic fatigue
Fribromyalgia




Migraines & headaches




Women's issues




Men's issues
The 15-day Healing Gardens Cleanse incorporates the following:
Treatments & Therapies




Emotional Counseling




Pre & Post-Cleanse Herbs & Supplements




Herbal Ghee




Self Massage oil
5-Sense Cleansing Regime




Pre, During, and Post-Cleanse Meals




Recipes, Diet & Nutrition Tips




Lifestyle Tips




Cleansing Instructions
The Healing Gardens Cleanse is based on Ayurvedic Medicine and  a Detoxification process called Panchakarma.

Panchakarma is Ayurvedic mind/body detoxification that serves to cleanse, detoxify and purify the mind and body. It is a unique, natural, holistic, health-giving series of therapeutic treatments that cleanse the body's deep tissues of toxins, open the subtle channels, bring life-enhancing energy to increase vitality, inner peace, confidence and well being.