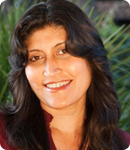 Sujata Shah experienced the healing of Ayurveda first-hand during a stressful period of her life after Allopathic medicine practitioners told her there was no cure for her allergies and the side effects related to the medicine they prescribed for her. Ayurveda returned her body to balance and health and she found no need to use pharmaceuticals. Since then she has facilitated many opportunities to bring an understanding of the Ayurvedic lifestyle to the Southern California area.
Sujata founded the Healing Gardens of Ayurveda along with her father and Dr. Ram Tamang in 2005 with a vision of full service and full functioning Ayurveda wellness Center, Clinic, and Spa, offering treatments with an East meets West Concept.
Sujata is a native of India, brought up in Tanzania, Africa and schooled in England.  She travelled world-wide extensively for her Tour and Travel business, giving her multicultural diversity.
Sujata is Certified in Business Administration and studied Ayurveda in the US and India with various Doctors.  She is a Registered Ayurvedic Practitioner and Certified Holistic Nutritionist specializing in Ayurveda Nutrition and teaches Vegan, Raw and Vegetarian Cooking Classes from various International cuisines.