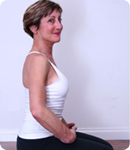 Tamora Toscano has been teaching and helping individuals to heal for the past 20 years.
She is a member of Yoga Alliance, holds a Yoga Teacher Certificate from Kripalu Center for Health, and is a Nationally Certified Massage Therapist. She is currently working on her second certification in Yoga and Ayurveda from a prestigious school, Dancing Shiva School of Yoga and Ayurveda.
Tamora teaches Therapeutic Yoga classes that integrate body, mind, and spirit by drawing from the ancient science of the yoga Vedas and Ayurveda. Her yoga style applies postures, breathing, relaxation, concentration, and meditation skills aimed at achieving balance and harmony for each unique individual constitution.
Small group classes are offered on Tuesdays from 6:30pm-8pm and emphasize personal attention and adjustments.
Tamora is Ayurvedic Body-Works specialist at The Healing Gardens and her body works massage practice also treats the whole person using customized organic herbal oils warmed to heal the body and mind from the inside out. Her techniques work to open the energy channels of the body and aids in releasing toxins uncovering the bliss we experience when body, mind and soul are in union (yoga).