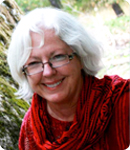 Melanie Oxley, a certified massage therapist specializing in Ayurvedic massage and body therapy, is grateful to be of service.
She spent her early years on both US coasts, and spent several of her formative years living in Thailand and travelling around the world. This instilled a curiosity for the visual and healing arts of all cultures.
She received a Bachelor of Arts in Sociology, has extensive studies of visual arts at Laguna College of Art, and Yoga and Buddhism at UCI.
After receiving an amazingly transformative healing massage, she decided to pursue formal studies of essential oils, energy work, flower essences, color, stone, and sound healing, and various massage modalities including reflexology, circulatory, and deep tissue. After completing studies in Bliss Therapies at the CA College of Ayurveda, she felt drawn even further into the healing arts.
She continues her energy work studies at the California Academy for the Healing Arts, and is currently finishing her first year in a professional herbalist course through KP Khalsa's International Integrative Educational Institute.
On a personal note, she lives in a rural canyon surrounded by nature, loves wild birds, horses, 5 rhythm dance, qi gong, and encaustic painting.